It's hard to celebrate when you have student loan debt that lingers after college has already ended. Paying off your loan is the last thing on your mind when you graduate, and many graduates struggle financially.
Despite the student loan crisis, there is a silver lining to it. Economists often refer to student loans as "good debt." These types of loans allow students to pursue educational opportunities that would otherwise be impossible. Unfortunately, many graduates end up in debt after college without realising how difficult it will be to pay off these study loans in the future. It can be hard to live with student loan debt, especially if you want to earn a diploma.
Student loans are unavoidable if someone would like to pursue higher education. Yet, there are ways for students where they can choose their options wisely and get help paying off student loans quicker than usual.
One is budgeting, and the other is crowdfunding student loans. Let's discuss more about these two topics in detail.
---
Crowdfunding Student Loans: Pros and Cons
Through crowdfunding, individuals can raise money for any cause, including education, business, and healthcare. There are various platforms that allow students to get financial support. Such kind of platforms allows people to gather funds for their critical cause without making complicated decisions. You can raise money for student finance, including tuition fee loans and further education funding through WhyDonate. Students can simply register for free and start receiving financial support for their university or college fees.
Pros Of Crowdfunding Student Loans
Through crowdfunding, students can gather money to pay off their study loans/ tuition fees without spending anything.

Online crowdfunding captures a global audience, so the chances of raising money online are quicker than with old-school fundraising techniques.

Through Crowdfunding, there are no financial obligations. So students should only give their gratitude back for the money they raise and nothing more.

There are many charities that help with student loans, and they can simply provide their help by supporting your online campaign.

By choosing crowdfunding student loans, students can learn important life lessons, including student finance, marketing skills, and social skills.

Once students successfully complete their loan payments, they can come back and use crowdfunding platforms to help others.
Cons Of Crowdfunding Student Loans
Just creating an online campaign will not suffice. It is important to share the details of your crowdfunding campaign with people is important if you want to be seen.

Sometimes, raising money through crowdfunding takes time, so patience is a real key.

Since there are no obligations, there are no promises as well. There is no guarantee that you will be able to raise 100% of your donation goal.

Asking for help online can be overwhelming. So it is important to understand that crowdfunding is a safe space where you simply ask for help, and it is not begging.

Depending on your country, there might be some taxation when it comes to receivable donations.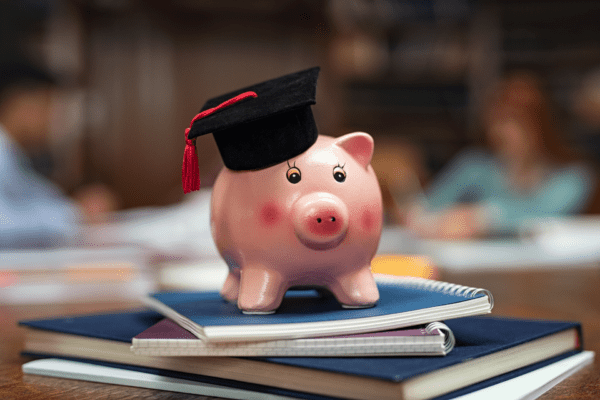 ---
Extra Tips For Paying Off Student Loans
Start Budgeting Before You Begin
College is a great place to start budgeting, as it allows you to keep track of all of your expenses and income. The first step is to determine how much money you get from various sources, such as your parents, a job, or other financial aid.
The next step is to determine your living costs, which will take a while. Apart from tuition fees, some of these include rent, car loans, food, and utilities. Subtract these from your total income to make a disposable income, which can be used for various expenses, such as transportation, clothes, and health care.
After college, many students have a lot of debt, and they don't know what happened to their disposable income. Having a budget can help you keep track of all of your expenses and income, and it will allow you to make informed decisions regarding your finances.
Choose Your Platform Wisely
Since there are many platforms available for crowdfunding, it is important that you choose a platform that is best suited to your needs. The chosen platform should be easy to use with good customer service in case you stumble upon any issues. Also, price is a factor, and students need to find a platform that doesn't charge much.
Being said that, WhyDonate is one of the most affordable platforms out there for crowdfunding student loans. Registration at WhyDonate is absolutely free, and it only charges a minimum of 1.9% + €0.25 per donation. Additionally, fundraisers can get instant payouts without waiting for a long time to use their gathered money.
At WhyDonate, you can customise your campaign page and share it on social media for faster results.
P.S. – Read more about How To Get Donations For More Ideas.
Now that you have a space where you can set the goal for your cause, it is essential to be true to yourself and others by creating realistic goals. You must refrain from raising money for entertainment and deceiving your donors. 
Be ethical and tell your audience about your real problems. Also, keep adding the progress from time to time.
Social Media Presence Is A Must
When it comes to fundraising, utilising social media platforms to boost the efficiency of a campaign is a great way to do so. Students can establish their presence on various social media platforms to draw in more followers and raise awareness about their campaigns.
Social media is fewer restrictions and has a large audience to speak to. With access to cell phones, it will take minutes to display your cause and explain how important it is to you.
P.S. – Read more about Social Media Fundraising Ideas For More Reach.
Through crowdfunding, people can help each other during difficult times. In various situations, individuals need financial help to cover a certain amount of time, such as for a death or a life-threatening illness – in this case, providing help for education.
So it goes without saying how essential it is to convey your gratitude to those who helped you without even knowing you. You can either write personal messages to reply to their donations on the dashboard (available at WhyDonate) or send them Thank-You letters to add a personal touch for contributing to your tuition fee loan.
P.S. – Find out How To Write A Thank-you Letter For Donation to your donors.
---
Start Paying Off Student Loans
Although crowdfunding for education can help you with your student loan debt, it's important to remember that it does not work if you only sit back and wait for funds to come in. Student loan applications usually take up to six weeks to process, and before you choose to crowdfund, thoroughly research the repayment options available to you.
Make sure it's important that you find the best repayment plan for your maximum tuition fees and maintenance loan to lead a peaceful student life, as student debt can be very depressing in the future. You can estimate how much maintenance loan you'll need depending on where you'll be studying and your household income. With the student finance calculator, you can easily determine how much you'll need to borrow.
So start fundraising for education so that you can build a successful career ahead of you.